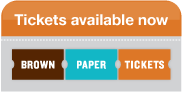 Multi Grammy Award winning artists Robert Sput Searight and Nate Werth take drums and percussion out of the shadows and into the spotlight with their new project, Ghost-Note. World renown for their rhythmic communication with international sensation Snarky Puppy, this dynamic duo expands their rhythmical voice into percussive melodies, through innovative grooves and captivating artistry. This is music that takes listeners on a mind-blowing rhythmical journey, inspired by the influences of James Brown, J Dilla, and the Beastie Boys, all the way to folkloric West African, Afro-Cuban, and Brazilian samba grooves. Ghost-Note is an interactive drum movement like you've never seen before. It is a drumming declaration and celebration of percussion in all its forms.

Band
Nick Werth- Xylosynth
Sylvester Onyejiaka- Reeds
A.j. Brown- Bass

$10 Advance
$15 DOS
 
West End Blend
Since their conception, eleven-piece band West End Blend has been playing their version of hip-hop, soul-funk in venues all over. Fronted by vocalist Erica Bryan and rapper/breakdancer "Tangsauce", the band pays homage to classic throwback sounds while still adding their own distinct sound and flair to their collectively-composed originals.

West End Blend boasts a full four-piece horn section, two guitars, bass, keys and percussion to boot, packing the group onto stages every night. From humble beginnings in an epic basement funk dance party, The Blend's goal has always been to bring a party atmosphere to every show and venue ever since.

In 2013, the band recorded their debut release with recording engineer Brendan Morawski (Jungle City Studios) at Telefunken Studios in South Windsor, CT. Guaranteed to please any fan of hip-hop, soul or funk, "What It's All About EP" combines these influences to create an energetic first release. Shortly following the EP, West End Blend released a music video to the title track of the record, "What It's All About" directed by Ty Morin (179 Pictures).